Content Designer and Digital Marketer Opportunity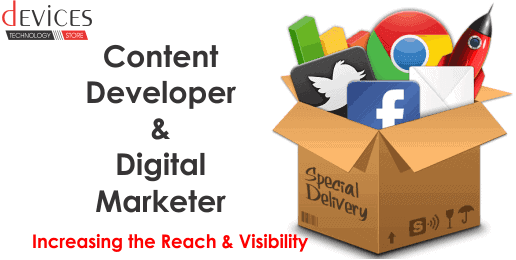 The main objective is to design content that is essential to building an online presence and push that content to all existing digital platforms with the aim of driving traffic and increasing sales.
Responsibilities
Responsible for designing and posting content on the Internet and may need to know online marketing techniques like search engine optimization (SEO), video content (webinars and webcasts), WordPress & JavaScript.
Adhere to the company visual identity across a multitude of platforms ensuring we stay fresh
Creating images, visuals, banners and all required materials
Responsible for design & maintenance of an e-commerce website, blogs, electronic newsletters, social media campaigns, and other digitally produced material
Identify target audiences and figures out the best ways to present information to these audiences
Optimize content for the website and social networking accounts such as Facebook, Twitter, Linkedin, Instagram…etc
Build and maintain company's social media presence with the aim to increase the visibility of products & services offered by the company.
Monitoring of social media presence on behalf of the company i.e engage with the public through social media and website.
Create, develop and manage content for organization's web presence
Enhance our websites with images and videos.
Keeping track of developments to make the most of emerging technologies
Skills
A keen eye for design detail.
Thinking creatively to produce new ideas and concepts and developing interactive designs
List of Design required: Web Design (banners, dynamic banners, and static pages), Motion Design, Infographic, emails, Pictures sourcing….etc.
Demonstrable experience leading and managing social media and/or display advertising campaigns.
Video editing skills: Website and social media content will not just be text but frequently visual as well
Good at handling time-sensitive projects and working to deadlines
Requirements
Experience in using and creative design software's such as Adobe illustrator, Photoshop, coreldraw, InDesign..etc.
Degree in Marketing, Journalism/Communication, Advertisement or similar or a related field
Must have experience in content design and an understanding of digital marketing space.
Passion for internet marketing.
Excellent organizational, project management and time management skills.
Attention to detail, ability to deliver fast and flawlessly.
Ability to effectively multi-task in a performance driven atmosphere.
Ability to clearly and effectively articulate thoughts and points.
High levels of integrity, autonomy, and self-motivation.
Experience in Online Marketing (3+ years) – e-commerce
Mastery of MS Excel. Google Apps + Google Apps Script is a plus.
Experience with website analysis using a variety of analytics tools including Google Analytics as well as internal reporting tools.
Experience working with popular PPC ad platforms (AdWords, Yahoo, Bing).
AdWords/ Facebook / Bing certification a plus.
If you meet the above skills and requirements, please send us your CV and cover letter to hr@devicestech.co.ke