Delivery Motorcycle Rider Job Opportunity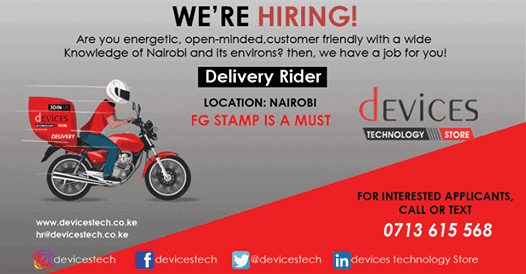 Are you energetic, open-minded,customer friendly with a wide Knowledge of Nairobi and its environs? If so, we have a job for you.
Your main responsibility is to make deliveries on time within Nairobi and its environs using the company motorbike.
MINIMUM REQUIREMENTS:
> Be a skilled and safe rider, with expert knowledge of the city and able to navigate traffic
> Should have at least 1 year riding experience within Nairobi in similar role.
> Must have a license (FG STAMP IS A MUST)
> Be trustworthy and discreet when handling items
> Good communication skills
> High Integrity, Physically fit, Clean and hygienic.
> Basic motorcycle maintenance skills
> Have good customer service skills
> Should have valid referees.
> Certificate of Good Conduct
> Be Reliable and Punctual.
If you meet the above skills and requirements, please send us your CV and cover letter to hr@devicestech.co.ke